Creating compelling Foleon Docs is only half the battle. If your content isn't distributed for maximum reach, it runs the risk of getting lost among the many pieces of content you publish and never truly taking off.
This is where content distribution comes to play. According to the 80/20 rule, you should spend 20% of your time producing content and 80%(!) promoting it. Let that sink in.
Your content's success, whether you're aiming for brand awareness, lead generation, or employee engagement, depends heavily on your distribution strategy.
In this article, we will share several ways you can distribute and promote your Foleon Docs to maximize reach.
Content distribution channels
Content distribution means promoting content to your audience in various formats through different channels.
Broadly speaking, channels can be in three broad categories:
Owned: includes all online channels that belong to you and that you have complete control over, like your website, blog, social media, newsletters, presentations, etc.

Earned: includes every free third-party distributor of your content, like guest blogs, reshares on social media, mentions on external platforms, press coverage, etc.

Paid: primarily includes pay-per-click (PPC), paid social ads, paid influencers, and paid content promotion.
There are endless possibilities within those categories, especially given how quickly the digital marketing landscape changes. Below, we gathered 22 ideas to distribute your Foleon Doc for maximum reach and brand exposure.
Please note that these ideas are most relevant for content that's meant to be viewed by as many people as possible. Some tips may not be relevant for your specific use case, but we recommend exploring them all — you never know what you may learn!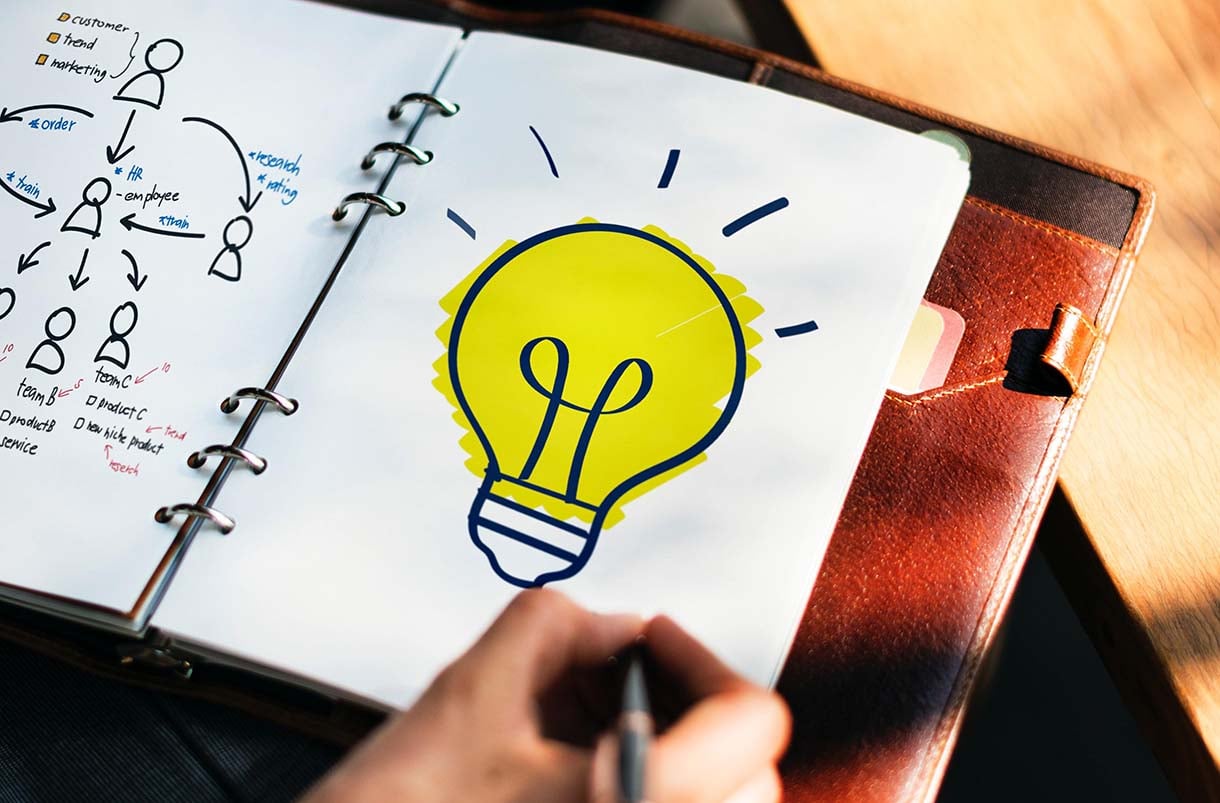 On your website
1. Create landing pages for white papers, reports, or eBooks
Did you create a lead generation-oriented Foleon Doc? Distribution starts with a landing page that converts. Create a dedicated landing page and give your visitors a peek at how your content will help them achieve their goals.
Pitching doesn't belong here. You want to inspire your readers to give you their contact details to gain access to a piece of content that will help them.
💡 With Foleon, it's possible to add a lead generation form within your white paper and gate it after 2 or 3 pages. Your readers get a glimpse of your value proposition, they get excited, and then they fill in the form to get the full version. Learn more.
2. Use the resource section of your website
Do you have a resource section on your website? Great! This is typically dedicated to more detailed, long-form pieces of content, thus an excellent opportunity to distribute your Foleon Docs.
Enrich your resources page with a section about your Foleon Doc! Is it meant for lead generation? Add a link to a gated version of your content piece and consider creating an ungated pillar page with plenty of links to the Foleon Doc.
3. Add popups on relevant pages
In marketing, timing and relevance are key. Connecting and interacting with your audience at the right time with the right message is vital for engagement.
Add popups to relevant and industry-specific pages, blog posts, or your examples pages with similar use cases, and offer access to your Foleon Doc.
Tools like Sumo are perfect for this. You can add customized popups everywhere on your website and easily track conversions. For example, you can trigger a popup when visitors move their mouse to the top of a page, indicating an intention to exit. Or, one that triggers when they've read halfway through a relevant blog post.
💡 Adding the word "free" in the popup can work wonders with engagement!
Popups can also be used with chatbot tools like Intercom or Drift. These tools help you construct predefined messages, build automatically routed conversations, and then track analytics such as clicks and conversions.
💡In the example below, our customer xtype promotes their latest Foleon eBook with an engaging popup on their website homepage.
4. Add links to blog posts
Your Foleon Doc is likely part of an overarching content marketing strategy. Write supporting pieces of content like blog posts (or update relevant existing ones) and add your Foleon Doc as an inline link or a CTA to increase visibility.
Via email
5. Make use of your email lists
Don't wait until after it's published to promote your Foleon Doc to your email lists.
Write a teaser email and build up interest before distribution even starts. A smart way to increase viewership is to grant your subscribers early access to the Doc (before it's published for the rest of the world). You can also A/B test this to see if it's increasing engagement.
Once published, you can include it in your news update or newsletter email, encouraging receivers to read it, share it, and forward it to their friends.
6. Add your Foleon Doc to your email signature
Email signatures are a part of your email that's often forgotten, however, it's the one thing that everyone sees when reading an email. Nowadays, most email signatures have links, usually to the company's homepage.
You can use that space to add links to your Foleon Doc. Be sure to ask your coworkers to add it to their own signatures.
7. Share it with your out-of-office autoresponder
Putting a little more thought into your out-of-office message can get you a long way.
A personalized autoresponder makes people eager to know what you've been up to, and linking to a resource like your Foleon Doc is a fun way to boost viewership even when you're not around.
8. Include it in the footer of other automated emails and transactional emails you send
Like with your email signature and out-of-office emails, your Foleon Doc can be included in every email communication you have with your audience.
Adding a link to your Foleon Doc in the footer of those emails guarantees that you're making use of every single email touchpoint that's available.
Via social
9. Post it on all major social networks
Your audience is probably scattered across different social media channels, and it's your responsibility to reach out to them regardless of the medium.
Post teasers about your forthcoming Foleon Doc to build up the hype, and repeat after it's online. Be sure to ask your coworkers to engage with the posts and share it with their own network.
10. Schedule a series of social posts
Sharing your Doc once after it's published isn't enough to leverage your distribution.
Create a series of scheduled posts focusing on different pages of your Doc and address the various topics covered within in more detail. Eventually, you'll reach more people.
Again, ask your coworkers to help promote it!
11. Post your Doc in industry-specific groups
Post your Doc in relevant groups on mediums like Reddit, Quora, LinkedIn, Slack, and Facebook, where your audience is active. Before posting, make sure you've been an active participant for a while or else it may come across as spam.
12. Republish portions of your Doc on Medium or as LinkedIn articles
Write an article that complements your Foleon Doc and post it on LinkedIn or Medium with links to the original Doc. If you have gated it with Foleon, you'll end up with highly engaged leads who have gone through two stages to get access to your content. Learn more
13. Advertise your white papers with paid ads
Perform keyword research and create highly targeted social advertisements on Facebook, LinkedIn, and Quora redirecting to your Foleon Doc or its landing page (if applicable).
14. Social monitoring
Search and identify what's being discussed around the topic of your Foleon Doc on places like Quora and LinkedIn and engage in conversations where you could mention your content. Remember to prioritize being helpful over pitching.
15. Tag influencers
If you have quoted influencers in your Foleon Doc, make sure to tag them and say a kind word when promoting on social. Every once in a while, they'll repost you to their followers and promote your content to a whole new audience.
16. Add share buttons within your Foleon Doc
Leverage your distribution strategy and enrich your lead list by including share buttons within your content. With Foleon, it's easy to add share buttons. Learn more.
Also, if your content is meant for lead generation, Foleon lets you embed lead generation forms right inside your Doc, meaning all those second-degree connections will see the lead form, too, before getting access to the entire piece. Learn more.
Via partnerships
17. Submit guest posts to relevant blogs
Guest posts are a great way to gain exposure to a broader audience, earn credibility within your industry, and grow your audience. Find relevant blogs and propose a collaboration for guest posts that will include links back to your Foleon Doc.
18. Leverage relationships in your network
Remember all these networking events you attended where you may have connected with people in the same industry as you? It's time to make use of them. Reach out to relevant people from your network via email, social media, or groups and ask for a collaboration like a cross-post on your blog or content mention. A well-drafted message goes a long way and could open the door for mutual benefits.
19. Develop media partnerships
Building and maintaining successful partnerships with media channels from your industry helps you attract interest from your target audience. This form of affiliate marketing is a powerful way to increase your revenue and build brand awareness at the same time.
Your media partner will be responsible for distributing your collateral and ensuring that you reach your target audience.

Press and media
20. Do exclusive interviews
Take your distribution strategy up a notch with interviews where you share useful insights and data from the research conducted for your Foleon Doc. Reach out to well-known media channels in your industry, like popular websites, bloggers, podcast producers, or YouTubers, and mention that you want to grant them exclusive rights to the Foleon Doc before it's published. Ask them to include a link to your Foleon Doc and a mention of your brand.
21. Be a guest on a podcast
Today, there's a podcast for everything. If you've researched a topic and created a Foleon Doc about it, there's likely a relevant podcast on that topic as well. Reach out to the creators and request to be a guest on one of the future broadcasts. Don't forget to tell the audience where they can find your Foleon Doc and ask the broadcasters to add the link in the podcast show notes.
22. Create a press release
A press release is an easy way to drive interest to your Foleon Doc from multiple outlets like blogs, websites, and news networks. Issue a press release when your Doc is published, and hope publishers will pick up on your story!
Conclusion
Creating content that gets lost in the shuffle results in lost opportunities and, possibly, a negative content ROI.
That's why content distribution is vital and must be included in your overall content marketing strategy. With Foleon, you'll make sure that your content is user-friendly, responsive, and easy to share and read through. But it doesn't stop there!